India March for Science (IMFS) rally was organised in Neyveli, Cuddalore District, Tamilnadu on Aug 12. Members of Tamilnadu Science Forum, Breakthoriugh Science Society, Science loving people, students, teachers and social activists participated in the rally.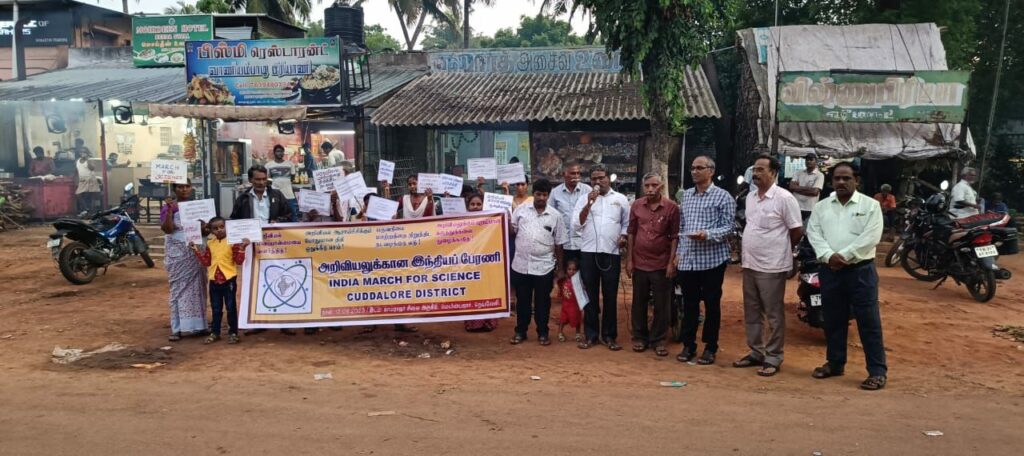 Shri. M P Ganesan, Breakthrough Science Society, TN Chapter presided over the inauguration of the rally and in his speech explained the demands of the India March for Science. He spoke about the significance of Article 51(A) of the Indian Constitution to develop Scientific Temper among the citizens. He demanded to increase the budget allocation for Education and fund allocation for Scientific research. He also criticised the deletion of Darwin's theory, Mendeleeve's periodic table from the school science text books and the history of Mughal period in the Social Science text books. He expressed deep concern about the encouragement of anti-science ideas in the society.
In the inaugural meeting, Shri. Balagurunathan, Retd. Chemistry Teacher and TN Science Forum activist expressed his worries about the changes in science text books. Shri.Dhanakesavan  TNSF District Vice President explained the demands of the March. Shri.Loganathan thanked the participants and the general public. The rally was conducted in the main streets of Neyveli Township Bazaar. In the rally, participants raised the demands of IMFS in the form of slogans and created awareness among the public. Leaflets were also distributed among the public.