A March for Science program was organized at Andhra Mahila Sabha Arts and Science college,
Osmania University on 28 August 2023. The March was inaugurated by the chief guest Dr. Mahatab S Bhamji, Retd. Director Grade Scientist, National Institute of Nutrition (NIN). Dr. Amanchi Nageshwara Rao (Osmania University), the convener, IMFS Hyderabad, addressed the gathering. The Rally with hundreds of students, teachers, professors, scientists and science activists started from Andhra Mahila Sabha College and proceeded to University college of Engineering, Osmania University and returned back to M V Hall inside Andhra Mahila Sabha College where a seminar was held.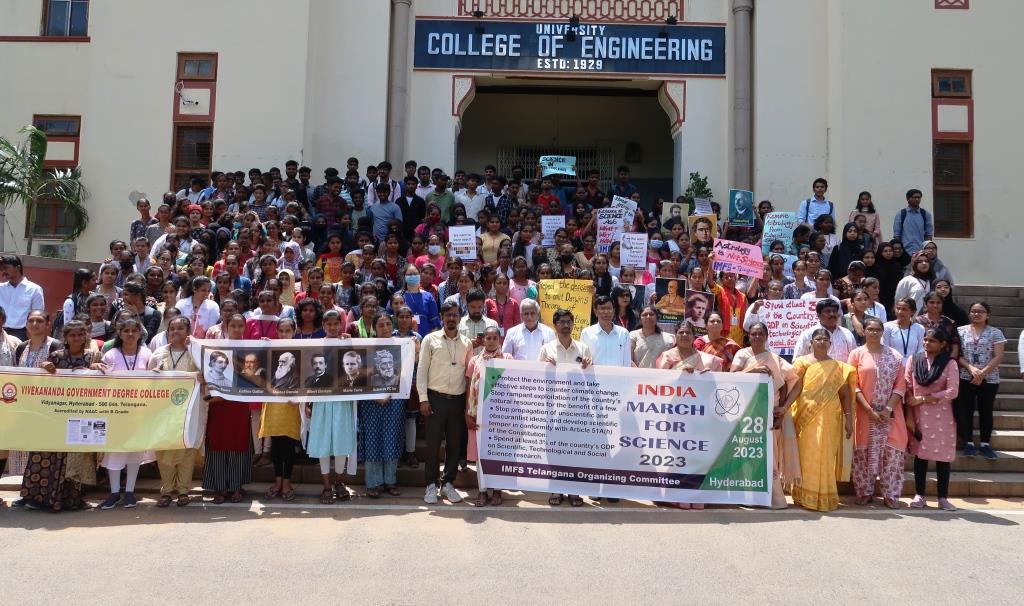 Dr. S. Bhamji addressing the gathering demanded that Environment protection laws must be implemented strictly to prevent the environment pollution. She also said that strict international treaties must be made to control the space debris created by satellites. She demanded government to take responsibility for safe disposal of nuclear waste produced by nuclear power plants. She congratulated ISRO scientists for the successful Chandrayan-3 mission but naming the landing spot as "Shiv Shakti" is unacceptable as the name is associated with religion. She also appealed to the students not to believe in superstitions and cultivate scientific temper among the people. Dr. R. Gangadhara, state President, Breakthrough Science Society presided over the meeting. He said that the introduction of unscientific, fictional themes into the curriculum under the guise of the 'Indian Knowledge System' (IKS), threatens to undermine the foundation of the educational system in the country. Attempts are being made to distort scientific facts and history, as well as to spread superstitious ideas. Even in medical education, universities are under pressure to start courses in unscientific faith-based subjects like astrology. Prof. Koya Venkateshwara Rao, Jana Vignana Vedika President demanded to allocate 3% for Science and Research. Prof. B N Reddy opposed removal of Darwin's theory from NCERT text books as this is important to get a clear understanding of the biological sciences. Mr. K. Vivek, MBBS student, Gandhi Medical College read out a resolution congratulating the ISRO scientists for the successful Chandrayan-3 mission. Sri. Devarshi Gangaji, Vice-President, BSS Telangana, demanded that 300 awards for science development which were scarped must be reintroduced. Mr L. Sarath, BSS State secretary also spoke.